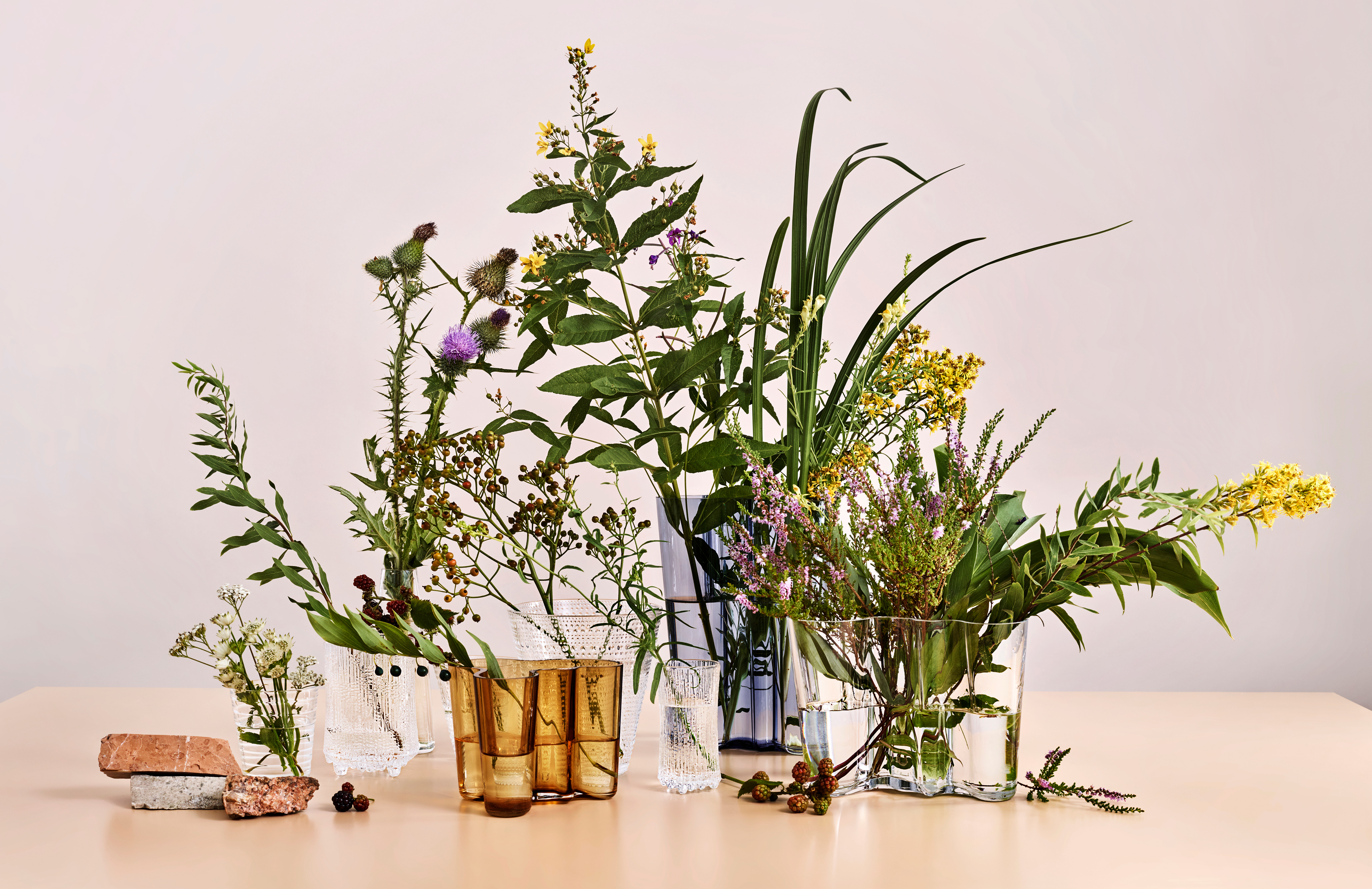 Sometimes shortened to "Scandi," the Scandinavian aesthetic has become shorthand for muted tones, functional furniture and the beloved clean lines of Scandinavian design. But if you look past the recent influx of hygge-fied vignettes, you'll find there's more to it than that.  
Hidden beneath the neutral veneer of Scandinavian minimalism is a vivid tapestry of colorful design elements: textiles made from intricate patterns, pastel pendants and bright dewdrop-styled glassware. Here you'll also discover a design movement inspired by a deep love for nature and cultural folklore, one that is within the world of Scandinavian design, but also wholly itself: Nordic design.
Nordic Design: Bright, Bold and Inspired
First occupied by Sweden and then Russia, Finland became its own newborn nation in 1917. From the beginning. Finnish leadership saw the importance in establishing their national identity in a visual way—through arts and crafts. While Russian influence was still a strong factor in the already established Finnish architecture, nature grew to be a central motif of true Finnish—or Nordic—design.
With cold temperatures and months of nil or total sunlight, much like other Scandinavian countries, images from nature—dewdrops and melting ice, creatures from the wild and blooming flora—became a popular source of inspiration for Finnish artists. Creating a sense of warmth in the home was also important, and colorful textiles and rich patterns can be found on rugs, blankets and throw pillows that fill homes around the world today.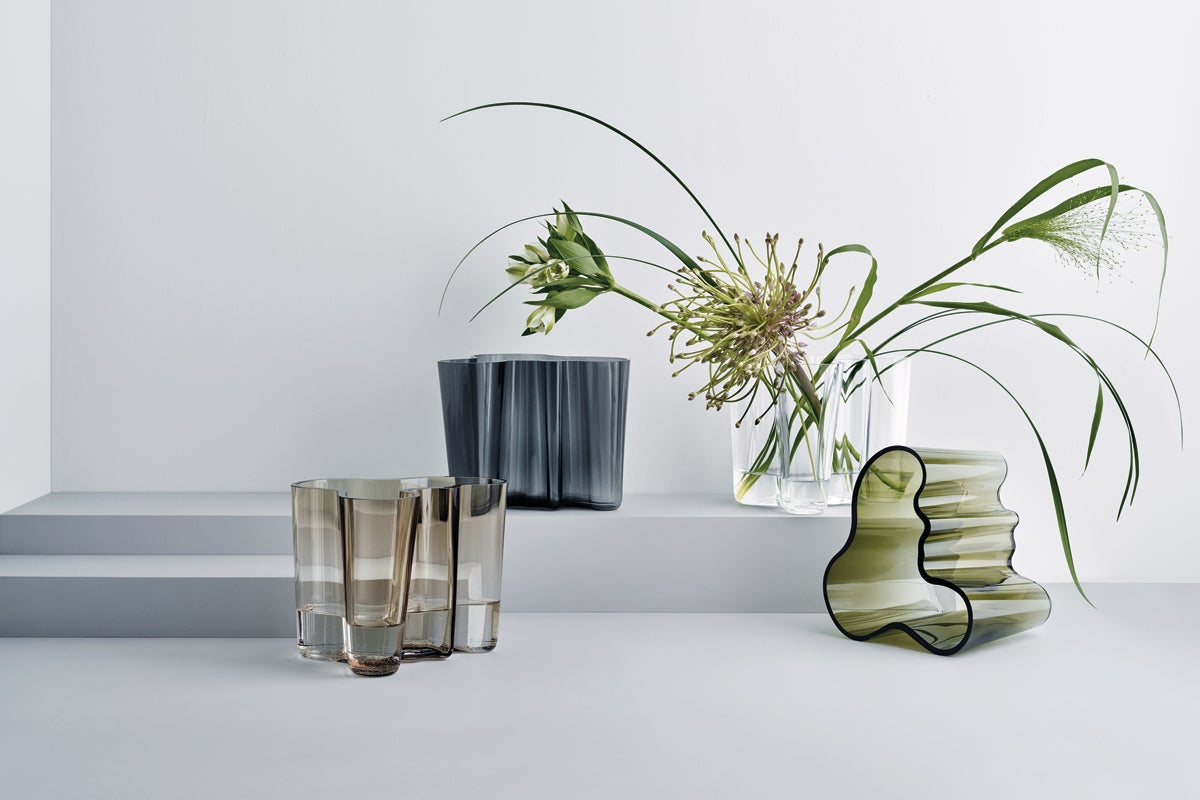 Thanks to the wave of modernism that greeted Finland in the 1930s by way of the Stockholm Exhibition, the country's arts and crafts became applied arts and crafts, and Finnish brands like Iittala and Karhula began to create glassware that had a practical purpose. But, making design products widely accessible proved difficult for 1930s Finland. Still dealing with strict tariffs from their previous occupants, the Finnish didn't have the economic infrastructure to support mass-production like their Scandinavian sister countries. Their operations remained fairly small-scale, and is perhaps why when we think of Scandinavian design, we think largely of those light and airy interiors sparsely filled with only the most functional of furniture and décor, rather than the intricately-designed and colorful patterns found in Nordic design.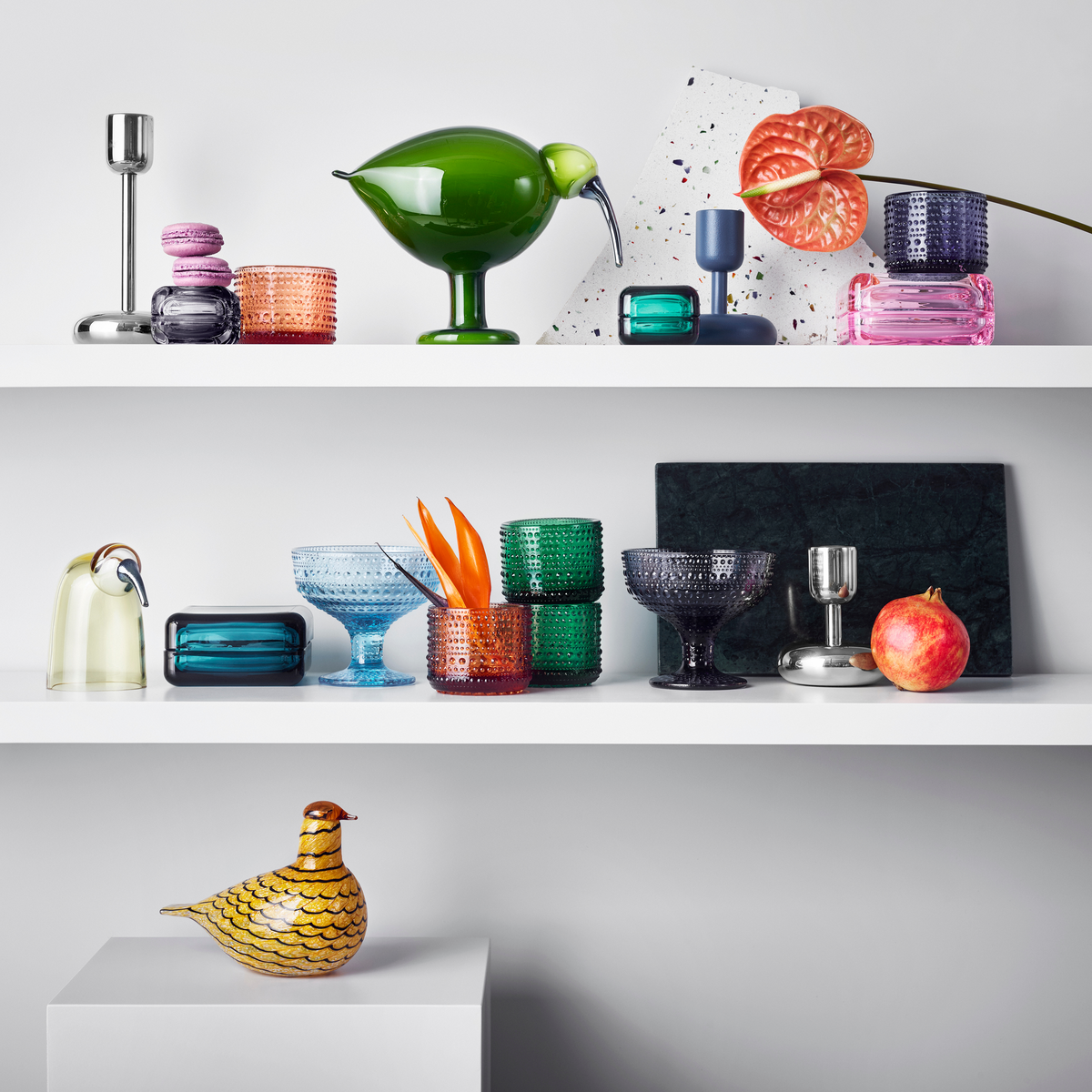 In the 1950s, Finland—now with a stronger reputation in the arts—joined the Scandinavian Design Brand, and participated in the Design in Scandinavia Exhibition which traveled to 24 museums throughout the U.S. between 1954 and 1957, garnering them an audience upwards of one million people. As design was deeply intertwined with Finland's aspirations for national progress, the arts and crafts were institutionalized through state-sanctioned organizations and societies, like the Finnish Society of Crafts and Design, which represented Finland in the Milan Triennales of the 50s and 60s. Designers like Tapio Wirkkala and Timo Sarpaneva prospered and came to represent the design innovation that was occurring in young Finland.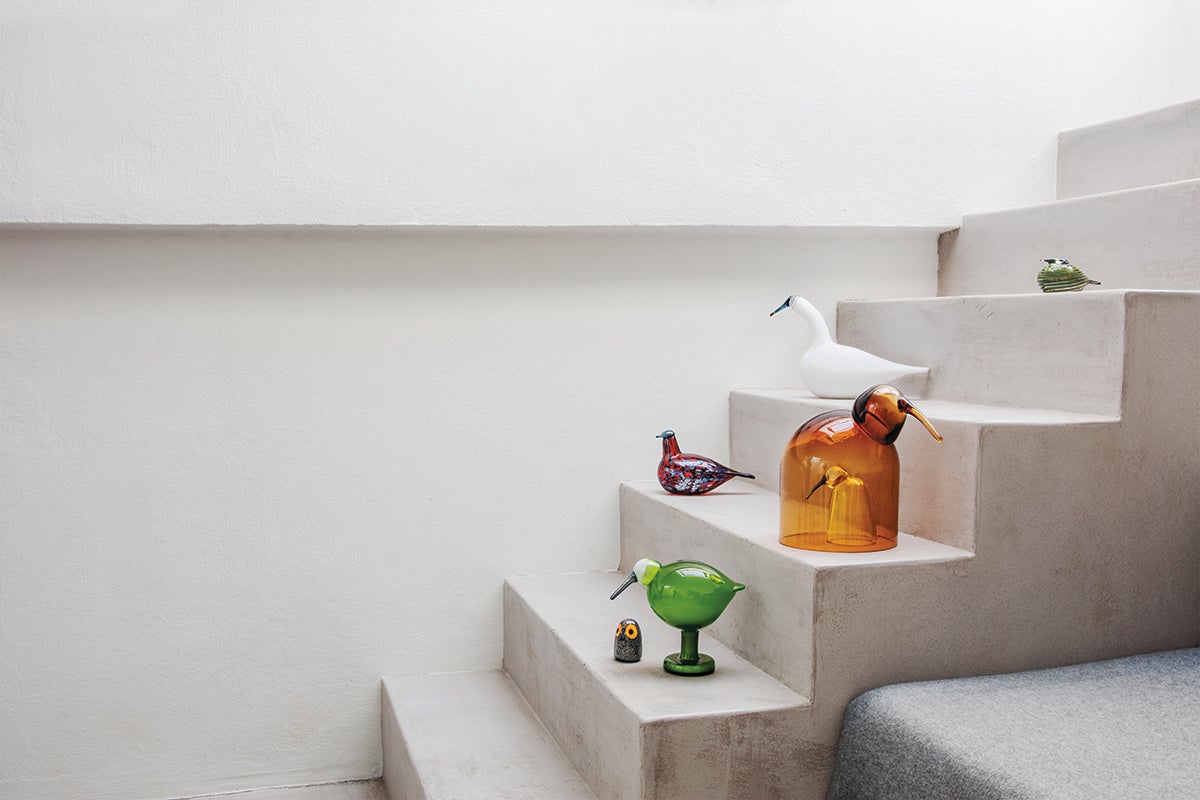 In the 1970s, advancements came for materials, and design movements around the world saw an influx in the use of plastics, synthetics and fiberglass. Now Finnish designers could combine the creative motifs that represented their national identity with the latest in design methods and techniques—and not to be dismissed, in an expanded color palette that would come to differentiate Nordic design from Scandinavian.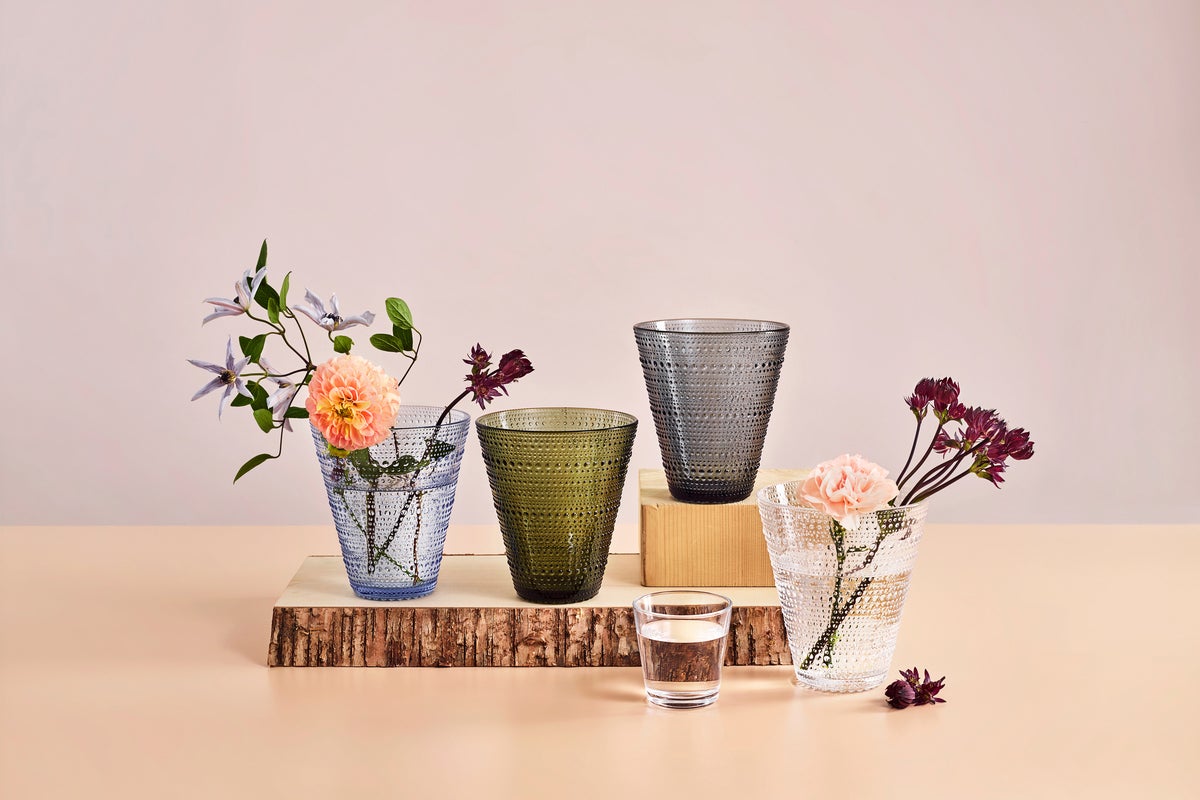 In spite of their economic struggle, Finland's connection to design has remained strong. In the late 80s, the Finnish Society of Crafts and Design founded Design Forum Finland, a national organization to promote and support Finnish design. Fast forward to present day: With an international resurgence in the popularity of retro and classic design, Nordic and Nordic-influenced brands and designers like Iittala, Alvar Aalto and Moooi have come into the spotlight once more.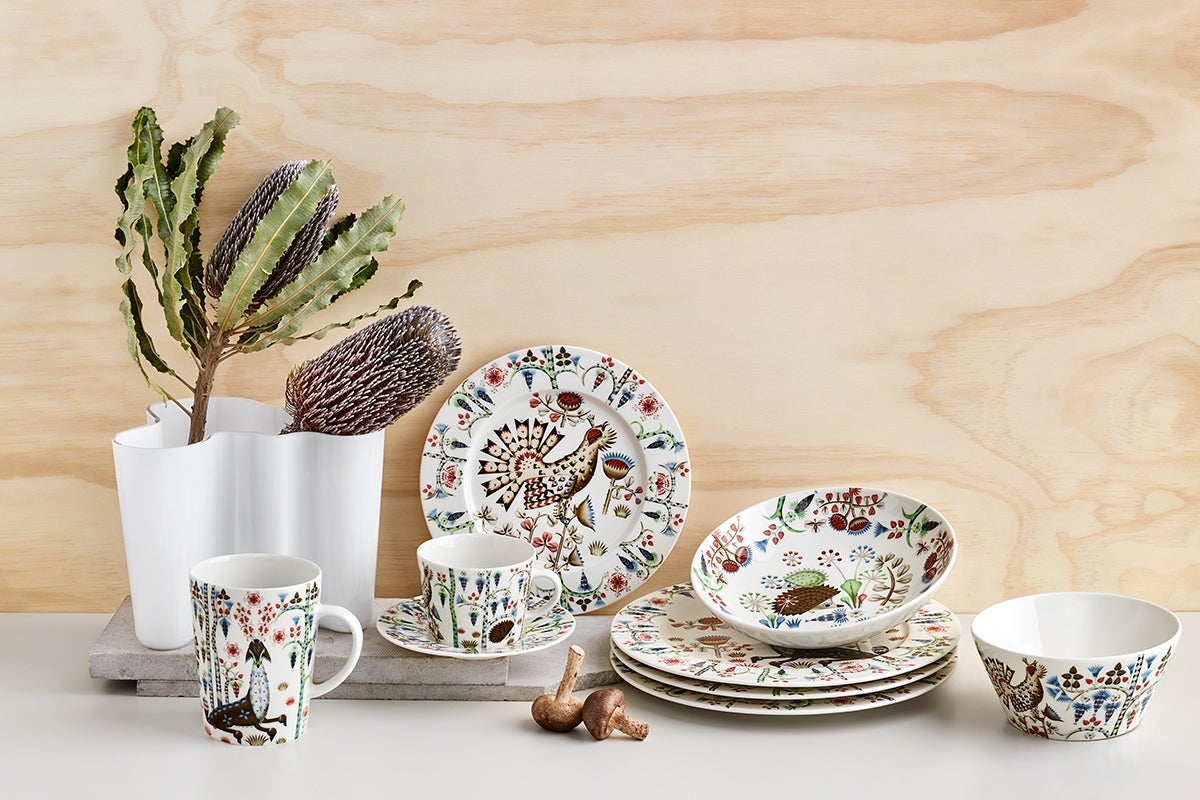 Scandinavian Spring: Pastel Pendants
The influence of nature on both Scandi and Nordic design can be found in delightful, pastel pop of colors that take inspiration from spring flowers. Soft hues of pink, blue, green and lilac imbue interior spaces with a soothing, organic feel, referential to and optimistic for the coming spring season when a cold landscape turns colorful with natural life once again.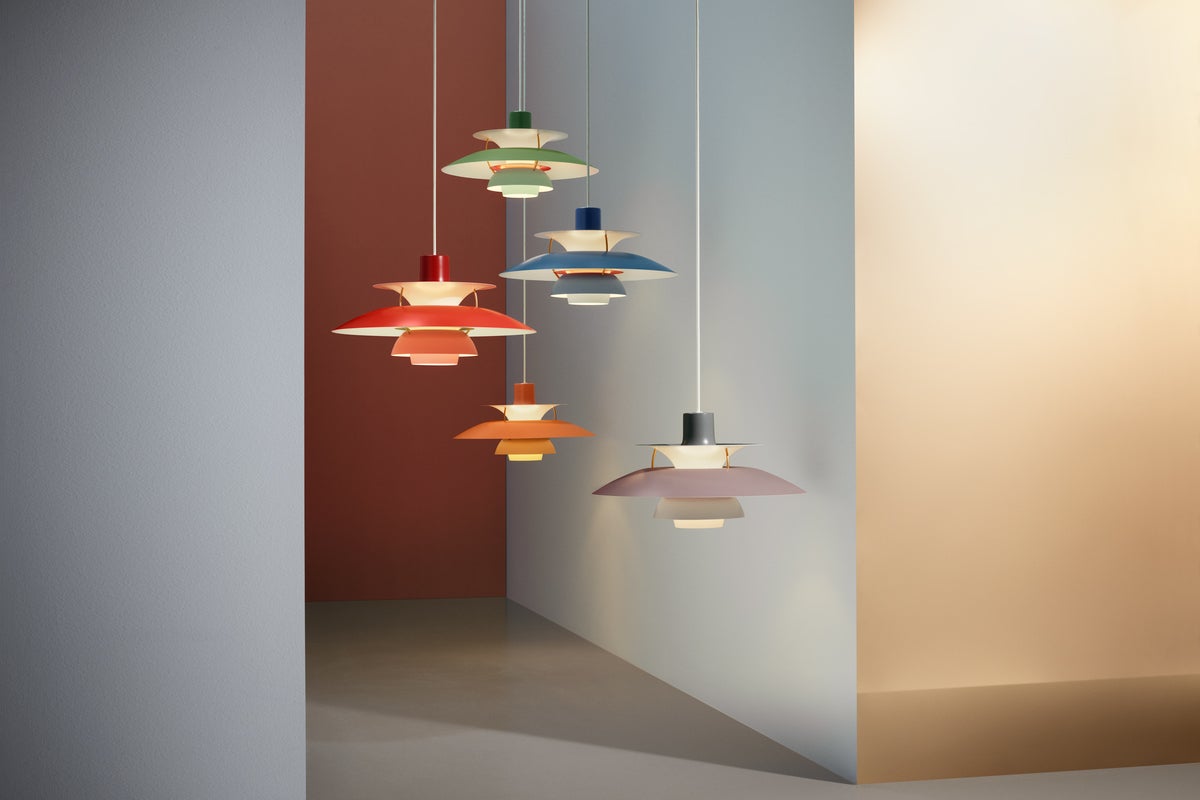 A bestseller for over 60 years, Poul Henningsen's PH5 Pendant for Louis Poulsen is a symbol of Scandinavian design. Inspired by his mother's wish for softer lighting in her home, Henningsen created the original three-shade system in 1926, and added the two additional iconic shades two decades later. In 2018, to celebrate its long history of lighting, Louis Poulsen released the pendant in an array of colors true to its Scandi history: undershades now cast in gradients of pink, red, green, blue, orange, gray and white now complete the 100% glare-free luminaire.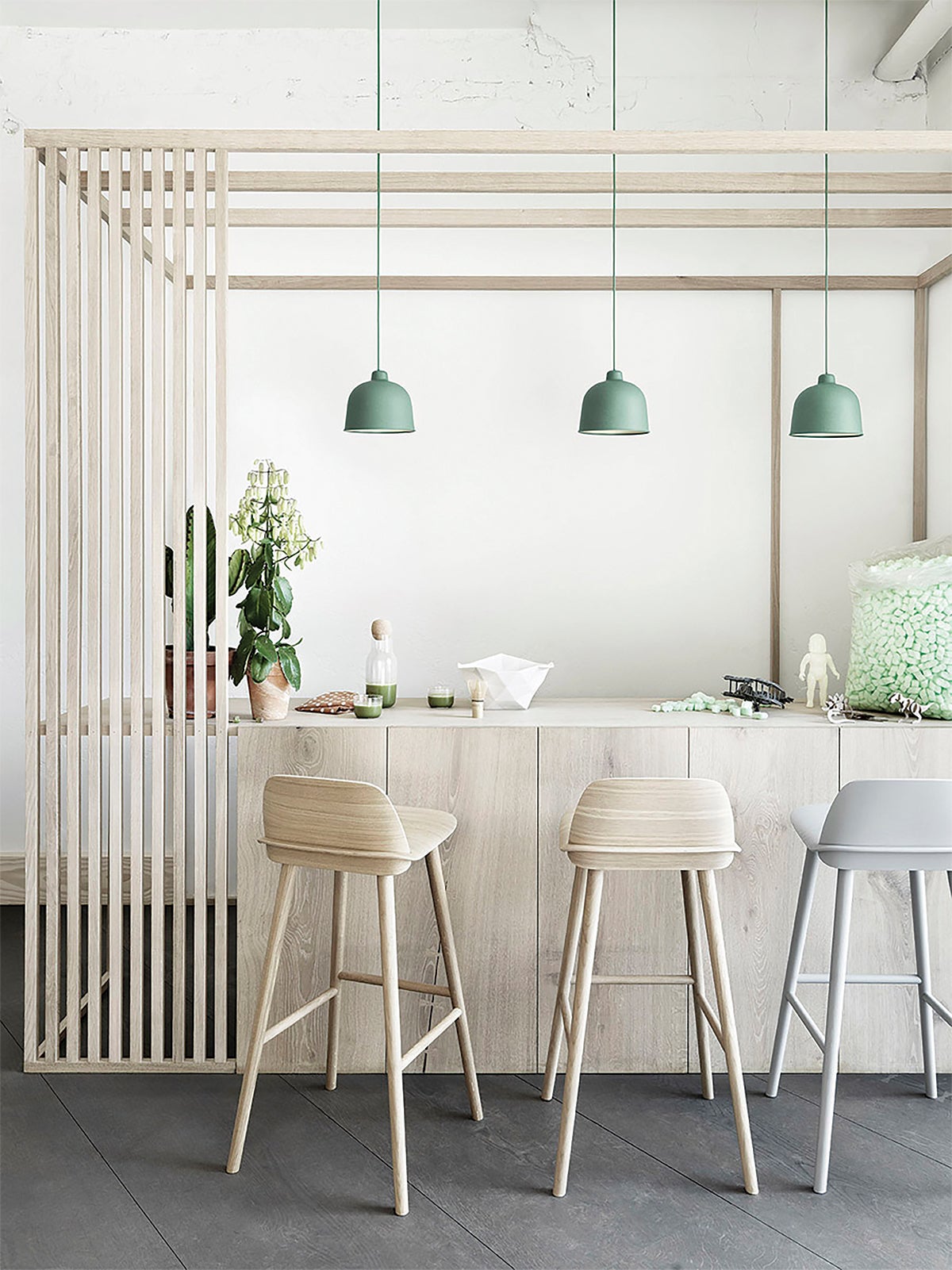 Color often guides the design process at Scandi-design brand, Muuto. "It's such a strong influence on how we inhabit and interpret our surroundings," says Silke Foged, Design Manager of the brand. Clean lines meet handcrafted technique in Muuto's Ambit Pendant, which is made from hand-spun aluminum, then hand-painted in subtle shades of blue or green, or more neutral shades of white, gray and beige. "The light blue brings a vibrance to the design, but without making too much 'visual noise' and it is still incredibly versatile," says Foged. "We find that the light blue works especially well with dark brown wood tones and neutrals—adding a nice contrast and pop of color. But it also pairs very well with whites and lighter woods for a more classic Scandinavian look."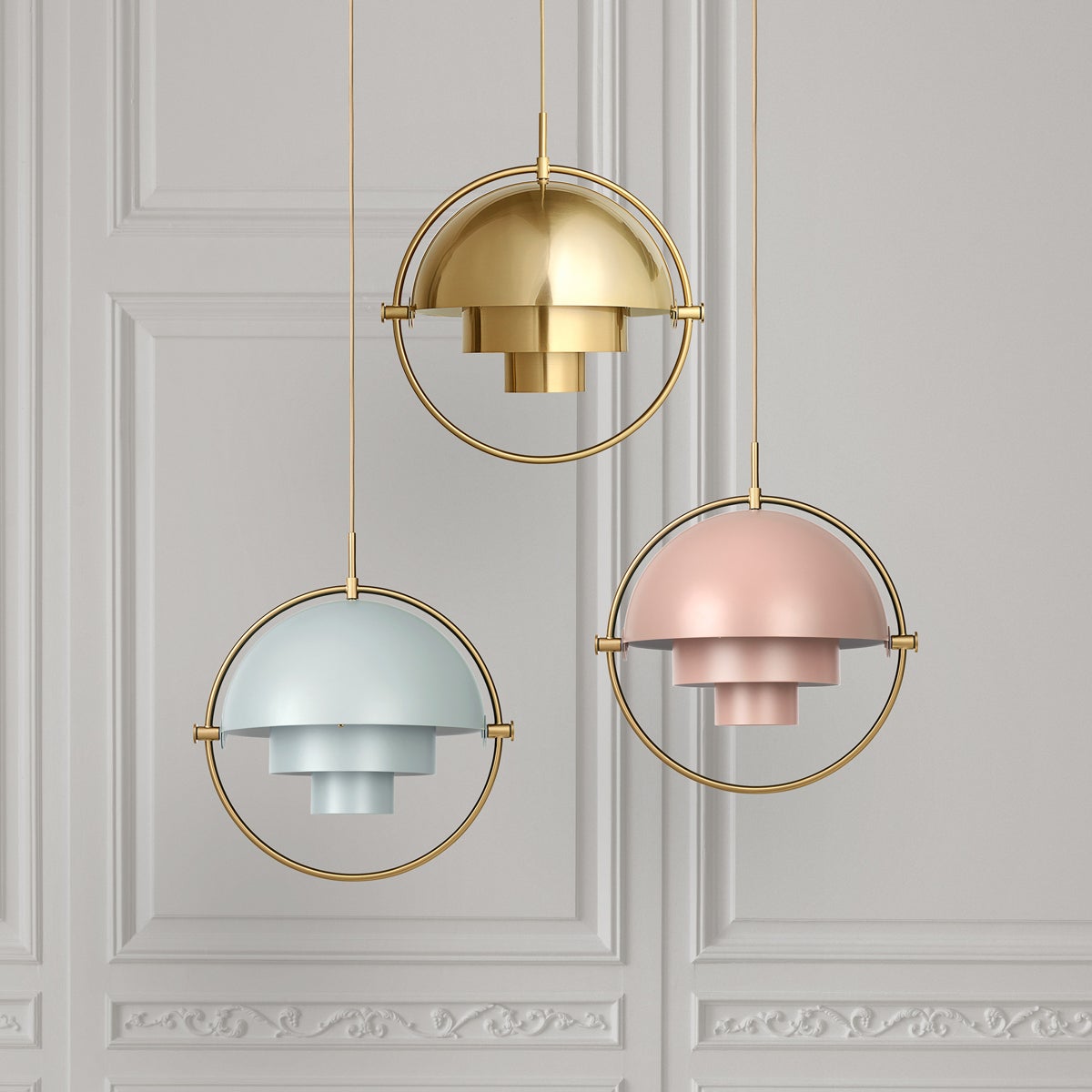 A tribute to the golden era of Danish design, Gubi's Multi-Lite Pendant takes pastels into the world of luxury. Created in 1972 by Danish designer Louis Weisdorf, the multi-purpose, multi-directional luminaire features a semi-matte or matte finish for carefully curated colors like rose dust and sea gray. An experiment in repeating shapes, Weisdorf's creation expresses the traditional simplicity of Scandi design while adding a subtle, peaceful focal point to interior spaces.
Tasked with bringing soft, inviting light to homes that are, for much of the year, surrounded by darkness, these pastel-coated pendants are icons of Scandi design—though perhaps more, a quiet but welcome reminder of the great outdoors that have influenced regional designers for decades.
Scandi Seating: A Strong Finnish
With much of the land dominated by vast forests, trees were not only a popular motif to be interpreted by the artist's hand—harvested wood from these forests became one of the most common materials used in Scandinavian design. In the 1920s, Alvar Aalto pioneered a new wood-bending technique, which would go on to influence the global design community, perhaps most notably Charles and Ray Eames, across the Atlantic Ocean, and fellow Finnish designer, Eero Saarinen.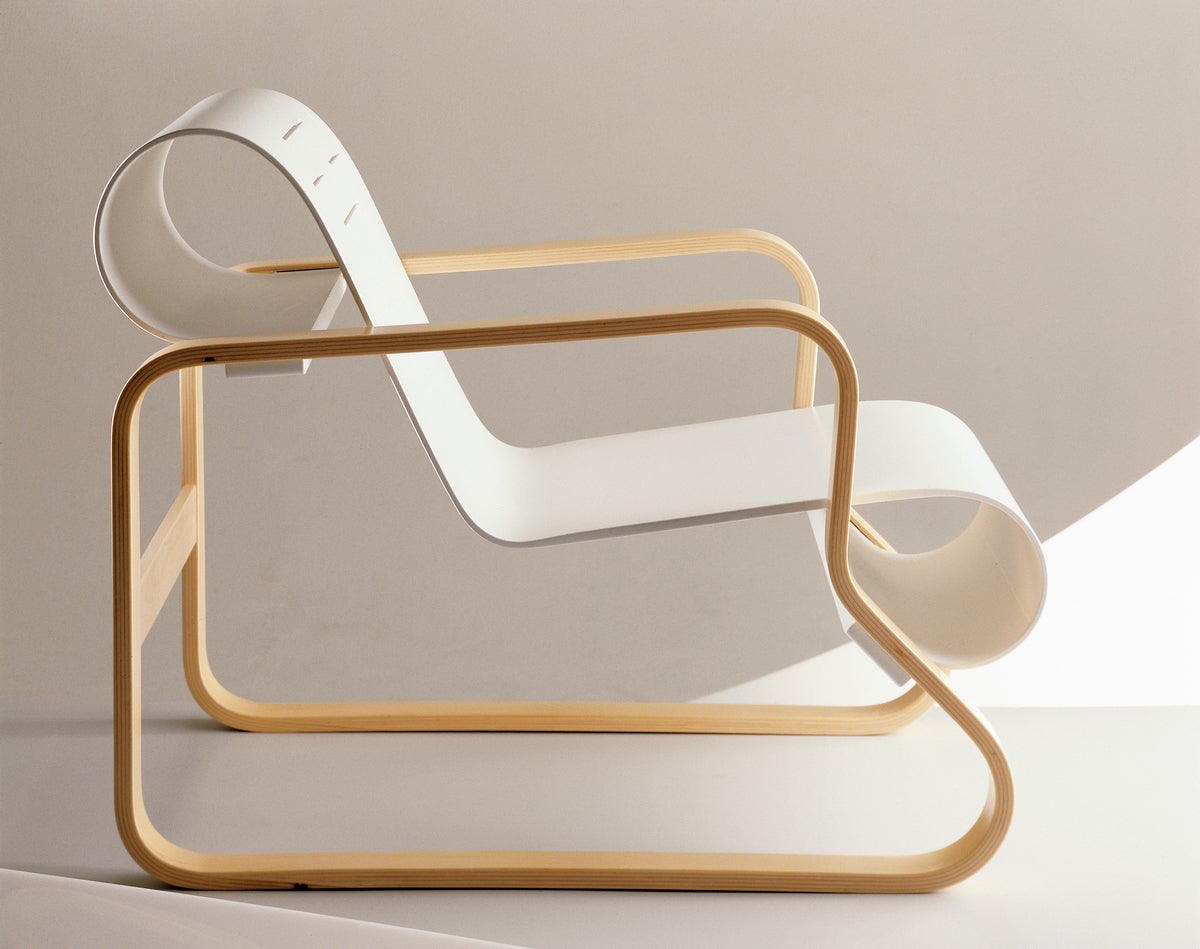 The newfound technique ushered in one of Aalto's most iconic furniture creations, the Paimio Chair, a Scandi-influenced, Nordic take on the popular Bauhaus-style Wassily Chair by his contemporary, Marcel Breuer. Where Breuer's chair used strips of leather and tubular steel, Paimio is made from two closed loops of laminated native birch that formed the structure's arms, legs and runners and surrounded the thin plywood seat.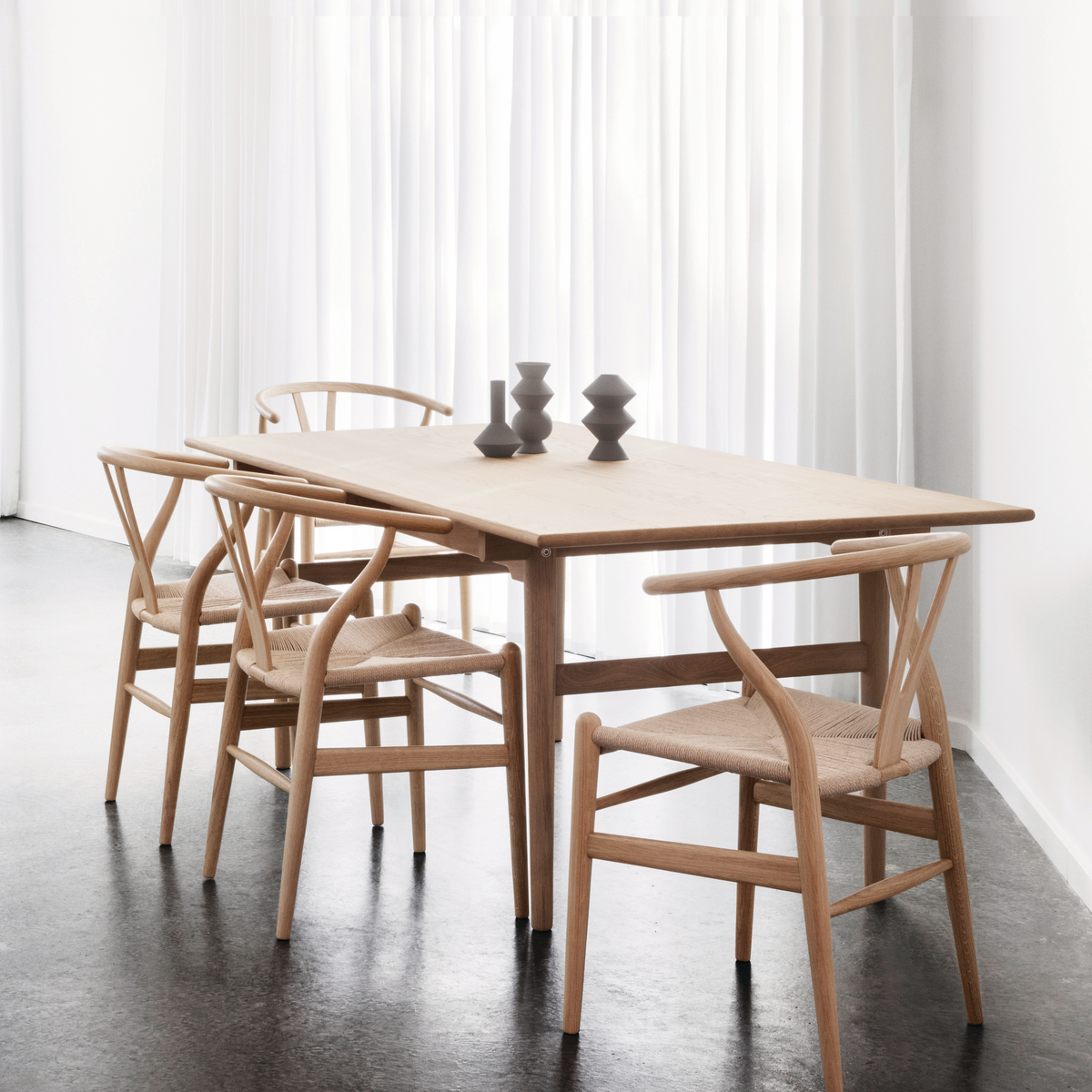 Also made from bentwood but distinctly different in appearance is Hans Wegner's Wishbone Chair for Carl Hansen & Søn. Where Aalto's Paimio offers a rounded, continuous organic shape, the Wishbone chair, while just as much a Scandinavian icon, is more textured with its woven paper cord seat, angular legs and a curved backrest.
Technicolor Textiles: Fairytales Underfoot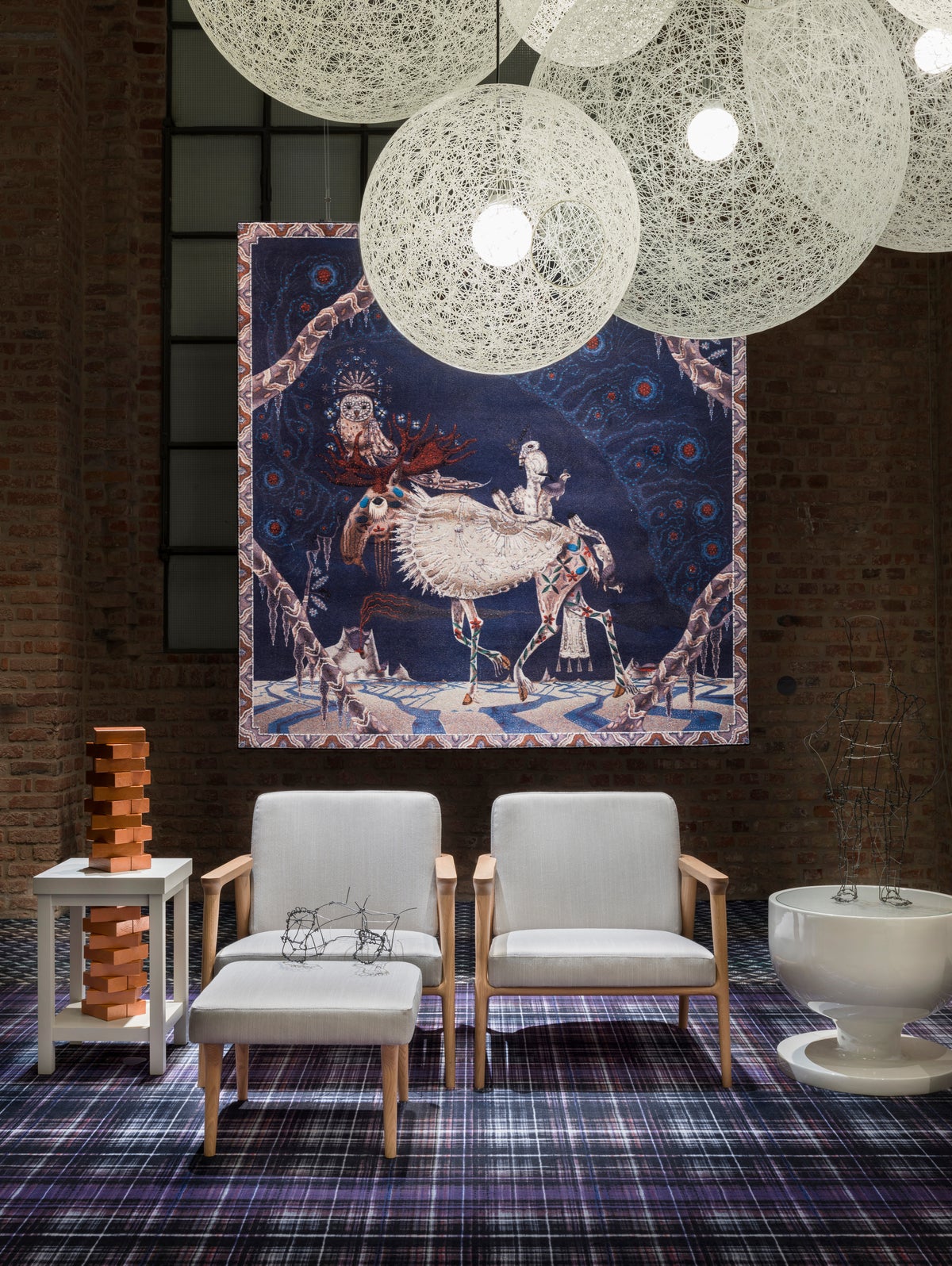 A Finnish epic poetic story meets Scandi design brand, Moooi, in this Nordic x Scandinavian crossover. Written by Rosa Liksom and visually interpreted by Klaus Haapaniemi, each rug from the Polar Byzantine collection relays a chapter from the Finnish tale. Chilling Nordic winters and fantastical animals are brilliantly illustrated in full color and rendered via revolutionary digital printing technology—placing this surreal collection squarely in the very real world of Nordic design.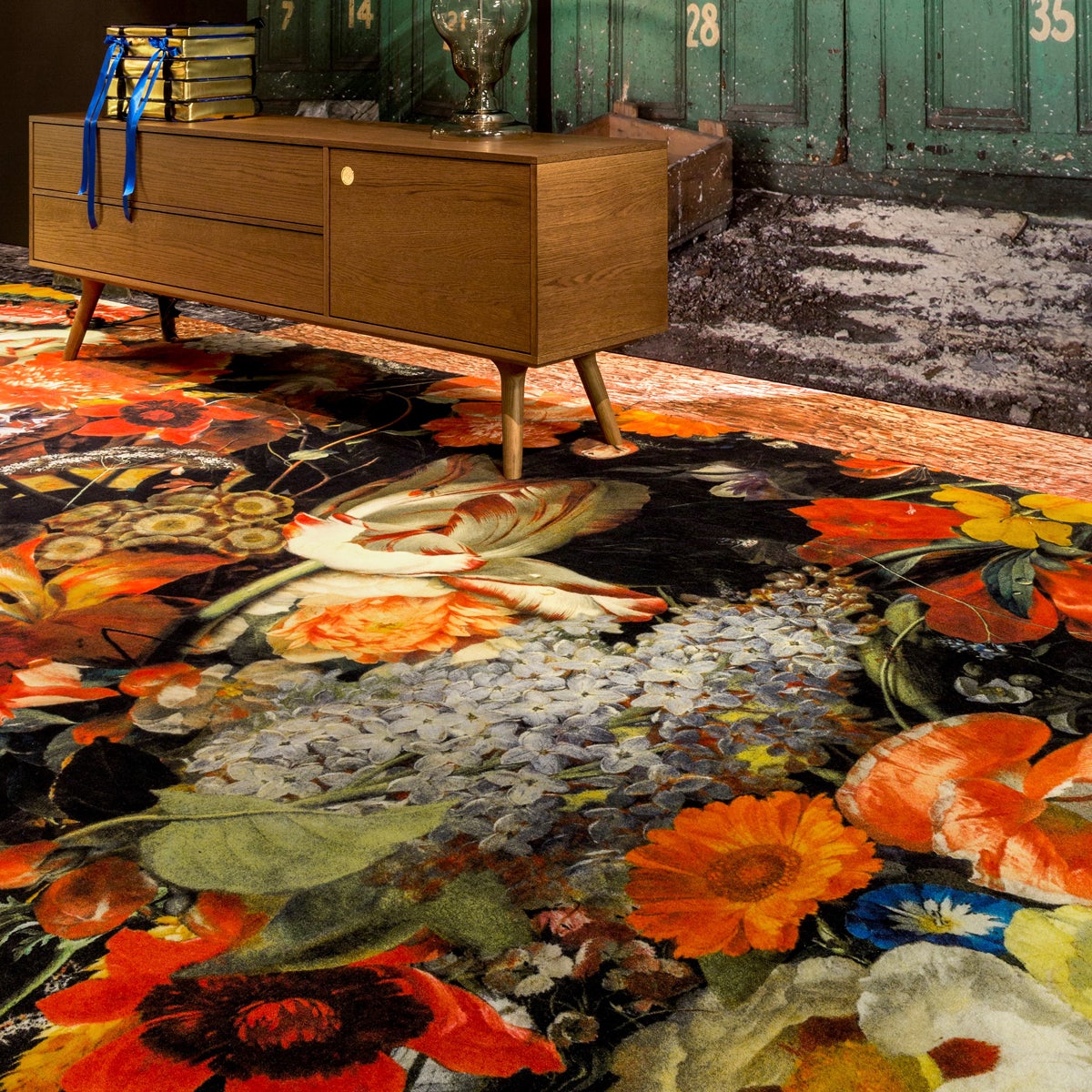 Calling back to an even earlier era of design is Dutch designer Marcel Wanders' Eden Queen collection for Moooi Carpets. Inspired by Dutch painters of the 17th century, bursting, moody florals decorate this environmentally friendly floorpiece. In line with the Scandinavian impulse to innovate, Moooi Carpet's Eden Queen series uses a Chromojet8000 printer which allows for an unlimited mix of colors with less dye waste and energy consumption, producing an exquisite work of art that carefully considers its materials and processes pre-, mid- and post-production.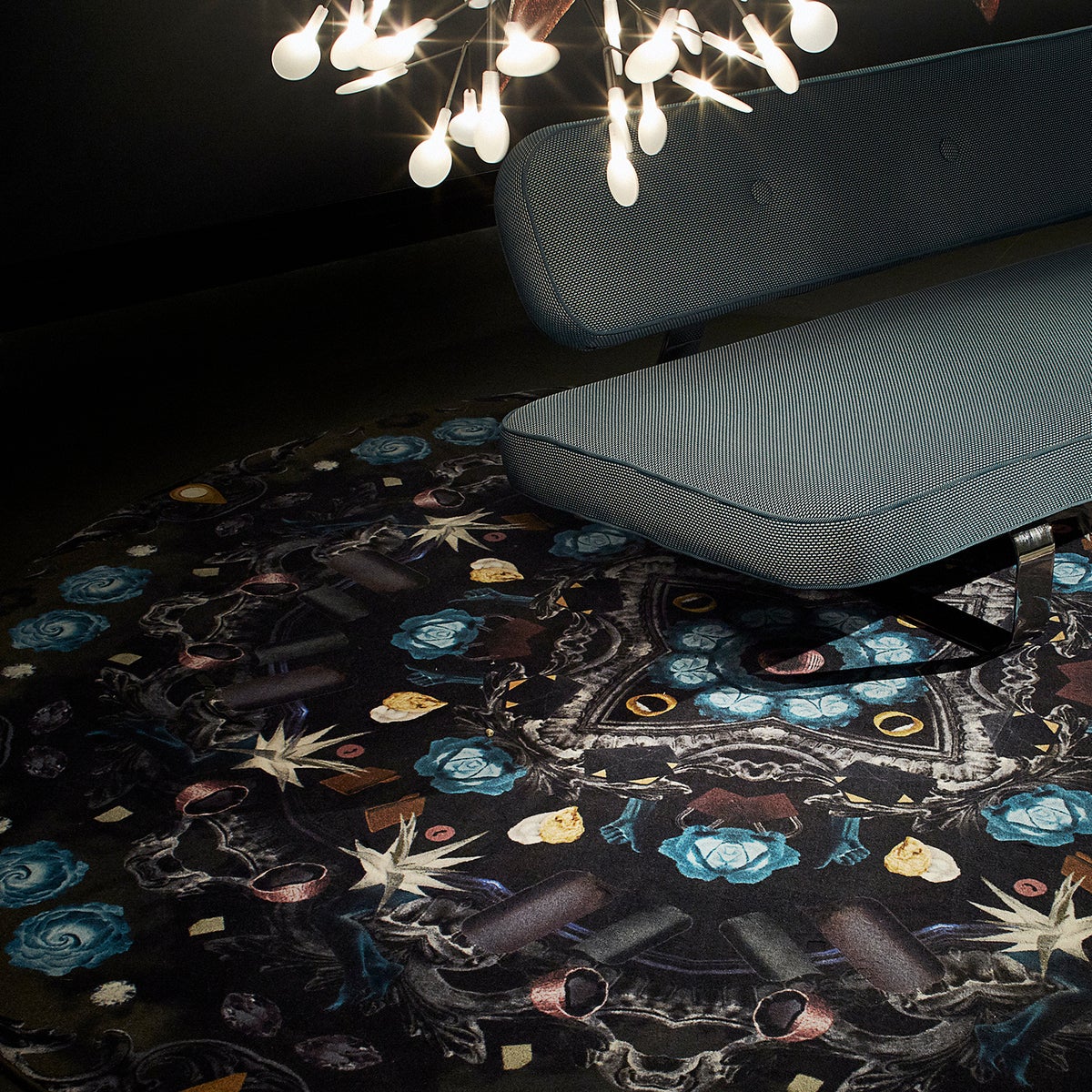 Amsterdam-based Noortje van Eekelen takes those folkloric myths from Nordic days past and turns them towards the future with her Utopian Fairy Tales collection. Inspired by what an idyllic future could hold, the Moooi Carpets' Utopian Fairy Tales collection portrays an extravagant, hopeful fantasy of beauty, equality and creativity through a kaleidoscopic design that never shies away from using big, bold colors.
From pastel pops of color that bring hints of a fresh spring to the indoors to natural textiles and folklore-inspired tapestries and décor, the design of Scandinavia and Nordic lands alike takes a sweeping look at the past, infuses those multi-layered influences with the innovative techniques of the day, and looks toward an optimistic, fantastical future that never loses sight of the organic, the natural—that which surrounds us each day, and can lead to movements of design that are at once timely and timeless.
(Visited 3,101 times, 1 visits today)