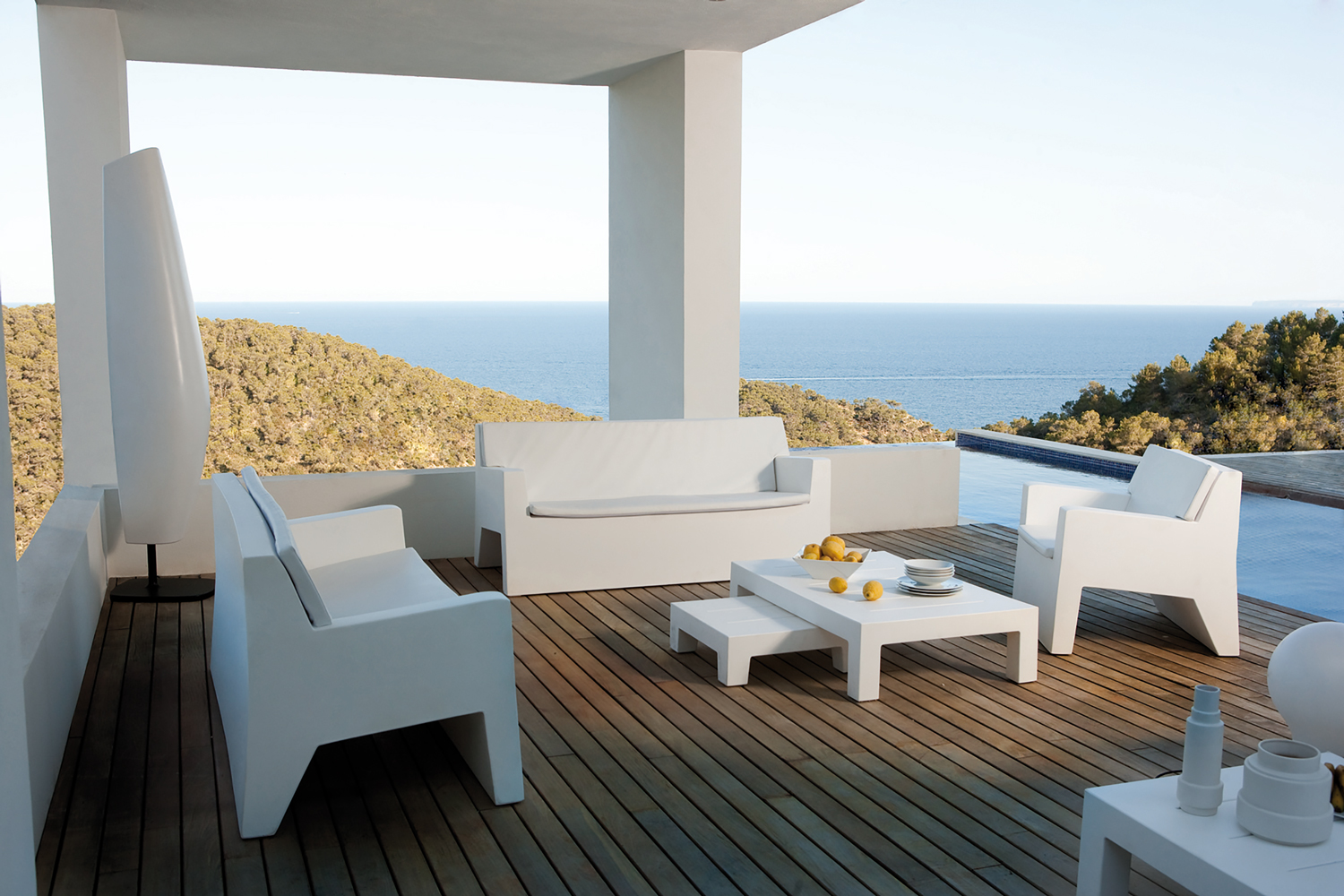 At the start of every summer, we're reminded that outdoor patio furniture is an investment. But when those pieces go up against pounding rain, howling wind or beating sun, they must be able to withstand the elements of every season. That's the crucial characteristic of all contemporary outdoor furniture—its material makeup.
 There are many great materials to choose from. But determining the best depends on factors like your lifestyle and location. To make the best possible investment, weigh the pros and cons of the various materials you'll find in outdoor furniture: 
Teak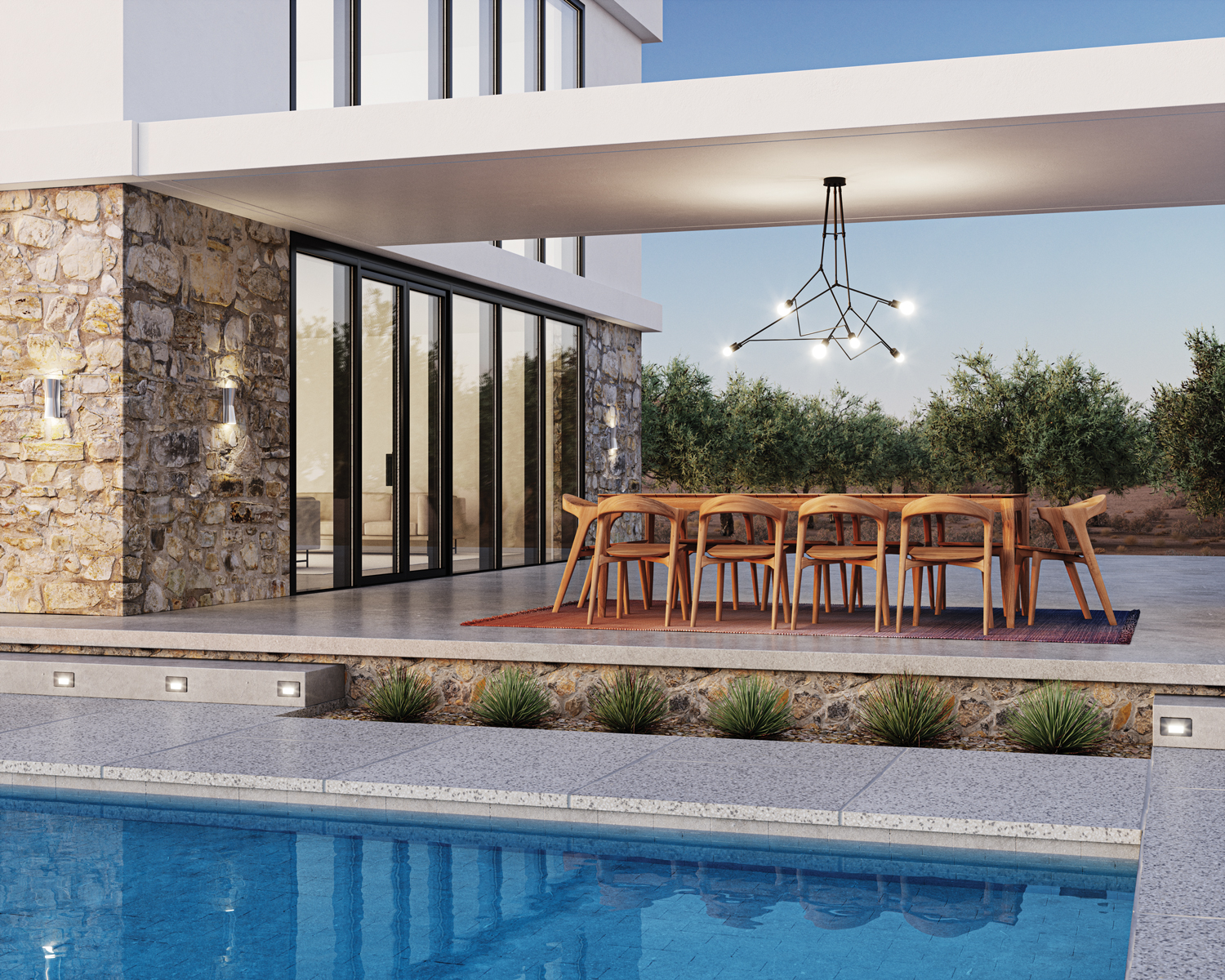 Of all the possible wood choices for outdoor furniture, teak is, by far, the most popular choice. And for good reason. Teak outdoor furniture has superior natural all-weather capabilities. It can withstand even the harshest environments and has an unparalleled aesthetic with its beautiful, warm tone. Teak has high oil and natural resin content, making it more resistant to insect attacks and impermeable to water. The oils also protect the wood from dry rot, making teak a very strong and long-lasting outdoor furniture option.
When new, teak wood furniture has a golden-honey brown color. If untreated, teak wood will naturally age into an elegant patina grey. Such aging does not affect the strength of the wood, but may not be the look you're going for. To keep the original color from fading, a teak sealant will typically last a full year before you need to reapply. 
Synthetic Resin + Plastics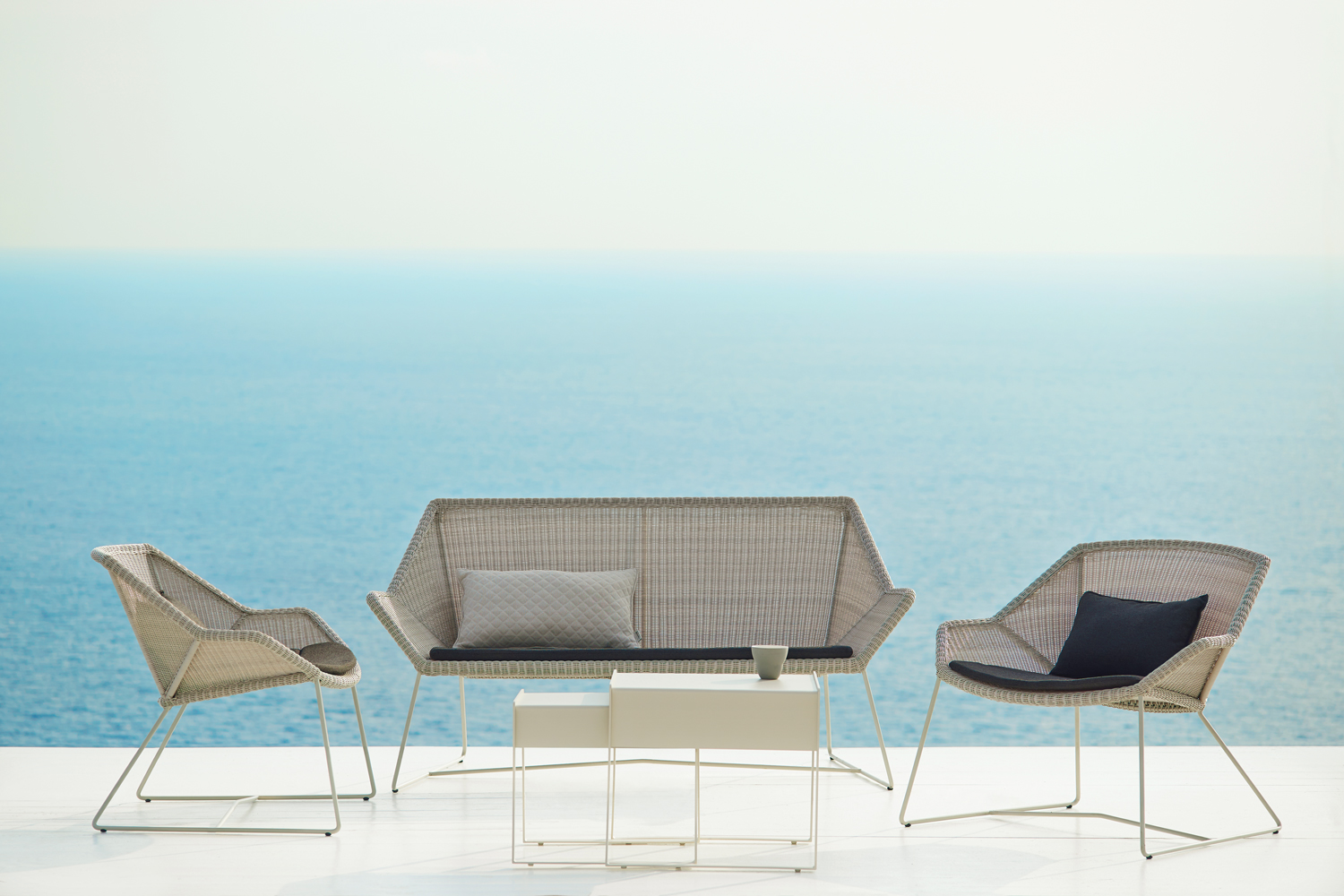 Another great material for modern outdoor furniture is synthetic plastic resin because of its low-maintenance, lightweight and extremely durable all-weather properties. Traditional synthetic resin outdoor furniture is typically woven in a wicker style for the classic outdoor look. This is not to be confused with natural wicker rattan, which fades when exposed to sunlight and is usually placed indoors. Synthetic resin wicker furniture can withstand the harsh conditions of the outdoors.
There are a few common synthetic materials used to make synthetic resin wicker, like nylon, polyethylene and PVC. When considering a synthetic resin piece of furniture, ensure you are getting High-Density Polyethylene (HDPE) wicker. HDPE is a higher-grade thermoplastic with higher strength, durability and heat endurance than PVC.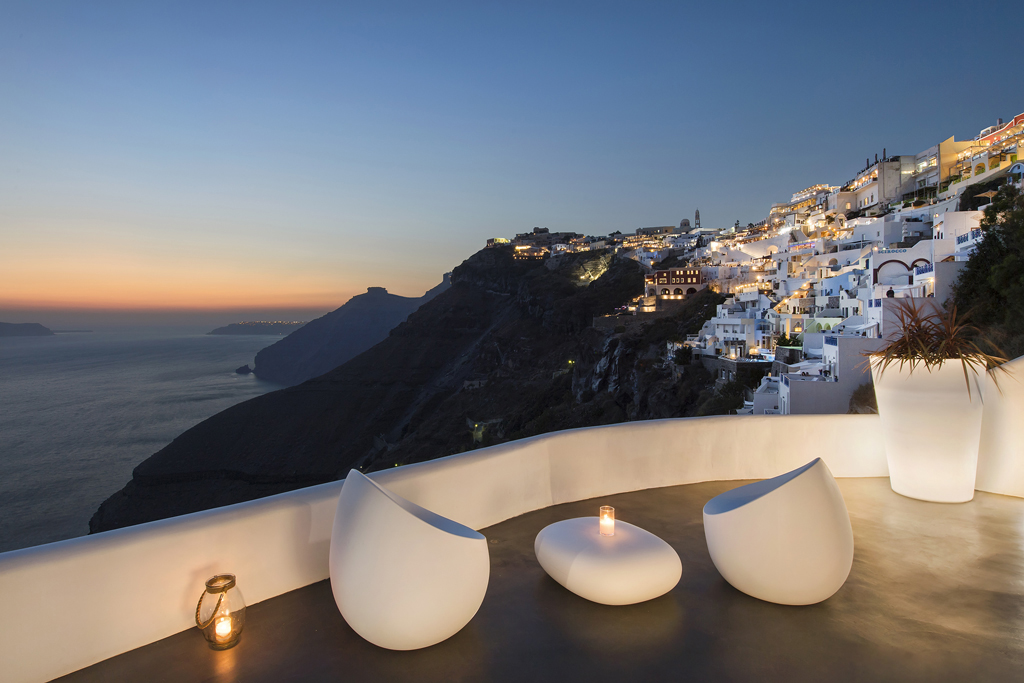 On the smoother side, molded plastics—high-grade polyethylene, polypropylene and so forth—offer unequaled sculptural and color options. Plus, they combine great durability with a low weight that makes outdoor seating and tables much easier to move around. The hollow nature of some molded plastic pieces even allows for the inclusion of color-changing LEDs.
Metals
Wrought iron has been common in the past, but due to its heavy weight, pronation to rust, and high-maintenance requirements, it is no longer common in modern outdoor settings. Some coated iron designs still persists, but the most common metals used for modern outdoor patio furniture are aluminum and steel.
Aluminum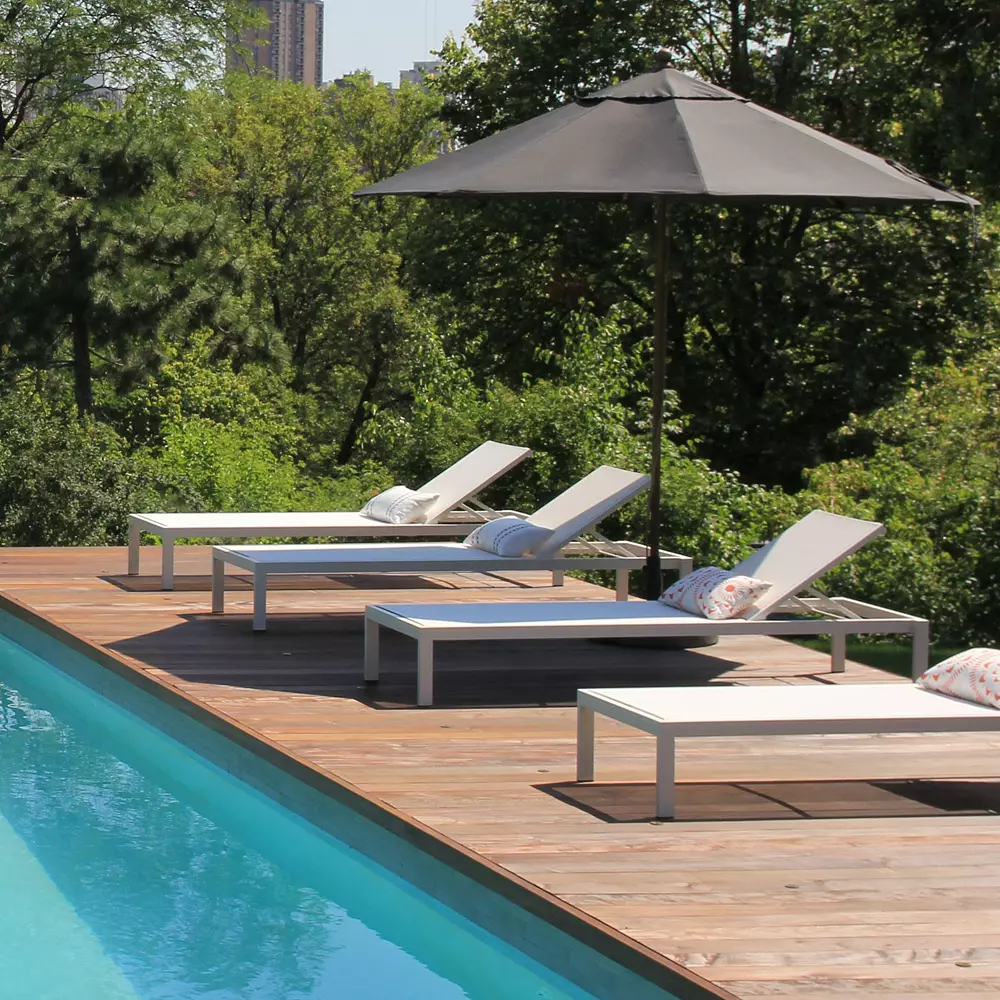 Extremely versatile, aluminum can be extruded or cast into any shape or design. Its light weight and durability make it an attractive option for outdoor furniture. Incredibly low maintenance, aluminum patio furniture does not rust like iron or steel when exposed to moist or salty outdoor air, nor does it dry out or crack like most wooden furniture when exposed to the sun. The only place aluminum outdoor furniture is not ideal are locations prone to high winds.
Steel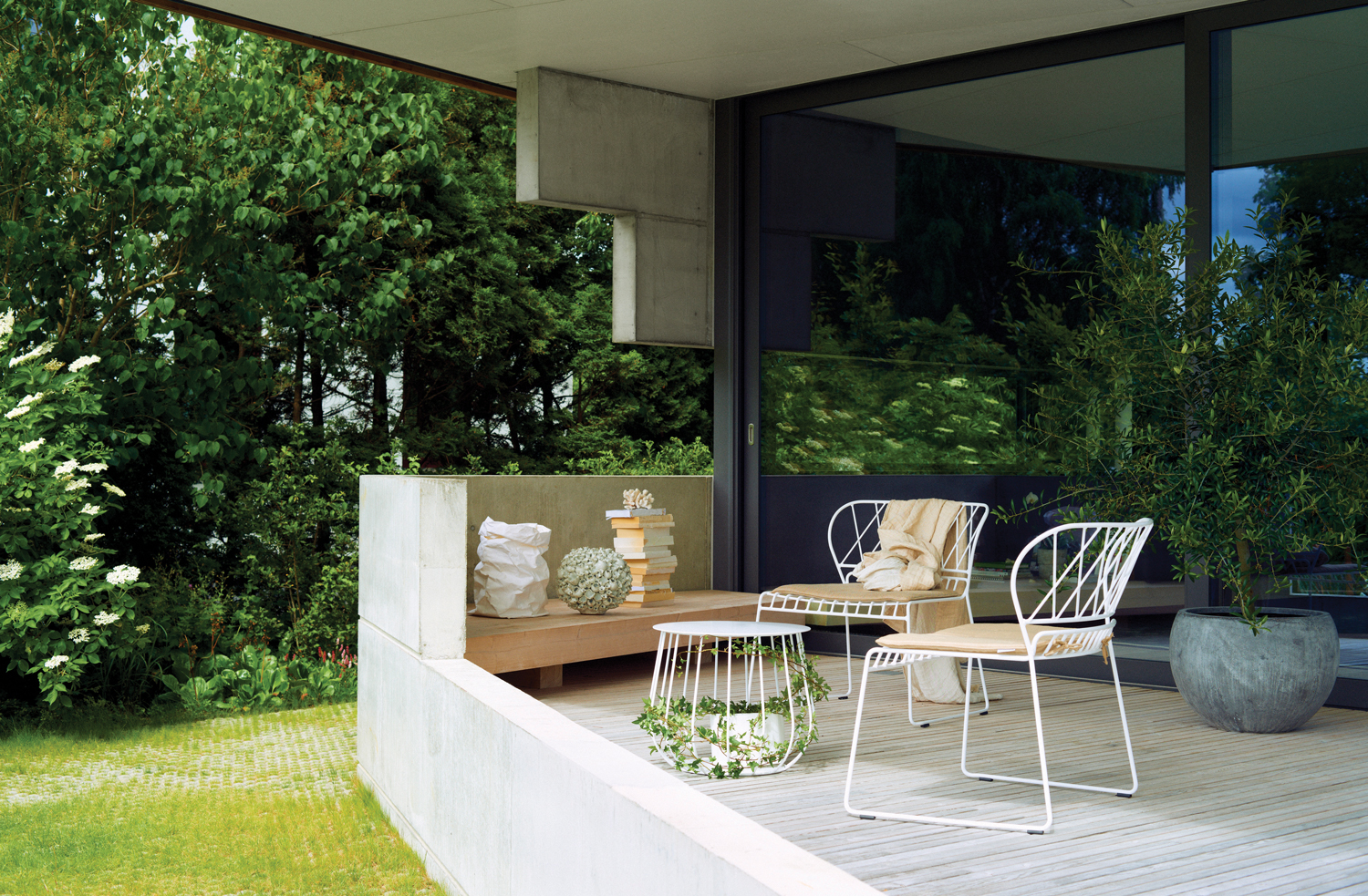 Steel is the strongest material, but it is also heavy and the more expensive of the metals. Due to its weight, steel furniture is not as easy to move around, but will be more stationary against the wind. Galvanized or stainless steel are the best options for outdoor furniture, as regular steel rusts and corrodes very easily when exposed to outside elements.
Galvanizing introduces a zinc coating to the sheets of steel to protect the metal from corrosion and help it withstand water exposure (as long as it is not salt water). Stainless steel, however, adds chromium to molten steel, which is resistant to rust and can be exposed to even salt water. This makes stainless steel perfect for marine environments. Do note that steel outdoor furniture, galvanized or stainless alike, will corrode with exposure to chlorine. So make sure any poolside steel furniture has a nice, strong powder coat finish to protect it further.
Fabric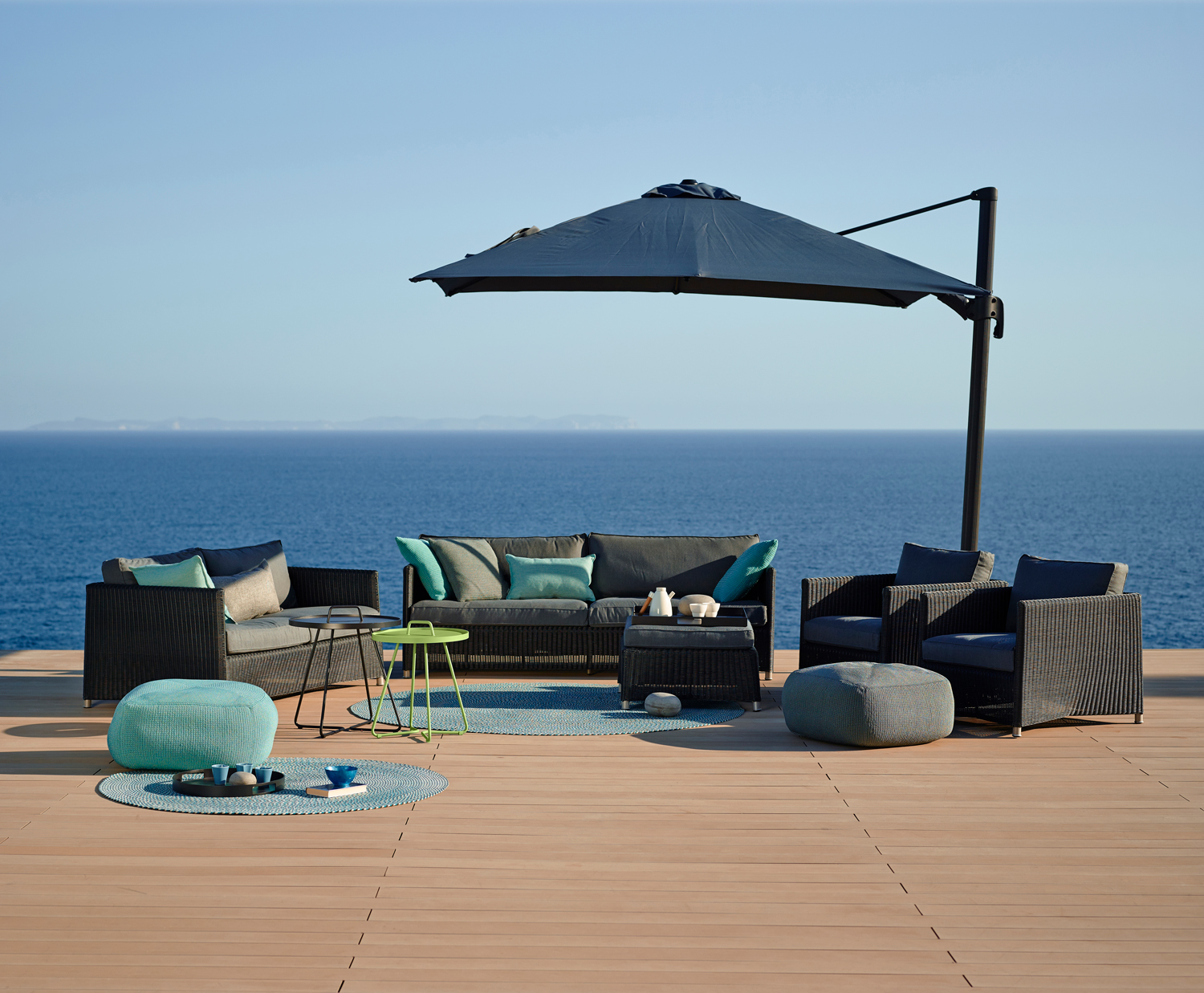 Upholstered outdoor furniture is inarguably the most comfortable option. It offers the ultimate lounging experience and a look that could just as easily be envisioned indoors. Outdoor fabrics are usually made of water-resistant synthetic fibers like vinyl, polyester and acrylic. Such weaves tend to be breathable and resistant to sun fade, moisture and other kinds of outdoor damage. 
Unless it's used by itself as a sling, exactly how weatherproof outdoor fabric may be is also heavily dependent on the weather resistance of its fill material. QuickDry foam and other similar fill materials are made to speed up water evaporation, runoff and eliminate mold and mildew issues. That being said, it's important not to leave upholstered furniture unprotected during the winter.
Concrete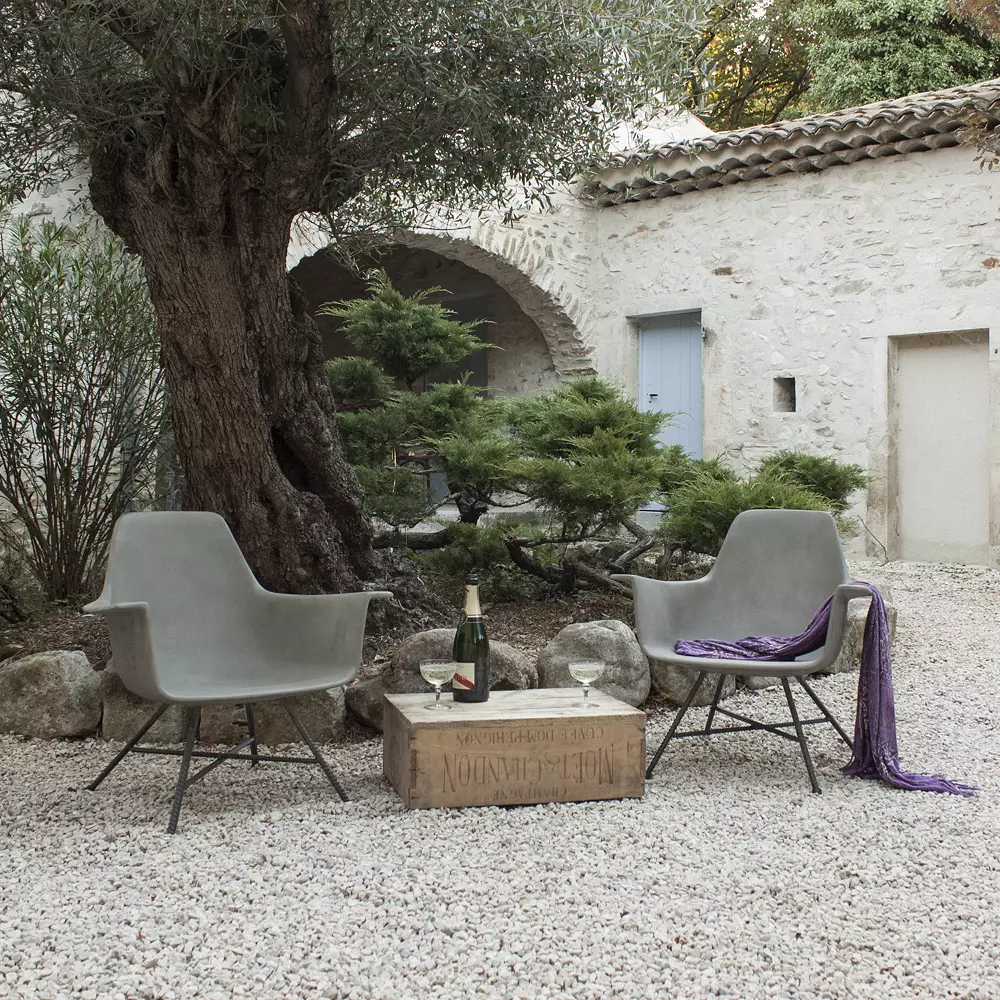 Previously seen as just a building material, concrete is trending as a key material in design, including modern outdoor furniture. With durability and strength, concrete furniture designs are also sleek and aesthetically pleasing. However, concrete is, by nature, heavy, porous and susceptible to staining. Liquids will soak into the surface and carry the stain into the concrete itself, and acidic substances like vinegar and lemon juice will dissolve the cement paste.
Not all concrete outdoor furniture is the same, however. While some furniture pieces use natural concrete (meaning naturally porous and not resistant to stains or freeze-thaw climates that cause cracking), there are blends of concrete and fiberglass or resin that are lighter and protect the surface from stains.
The Verdict
Personal preference is the guiding star when it comes to outdoor furniture materials. If the warmth of wood ties in with your modern patio scene, try teak. Look to aluminum or stainless steel for a sleek look that accentuates clean lines. For something out of the ordinary with a cool, industrial feel, give cement a try. Maybe the lightweight, low-maintenance or color-changing LED looks that are possible with synthetic resin are more your style. Or mix and match materials for a personalized, multi-textural effect. 
In the end, there is no "best" outdoor furniture material for all; what really determines what's best for you is your outdoor space and sense of style.  
(Visited 6,193 times, 4 visits today)